The Rolling Stones are an institution. They are one of the most popular bands of all time and last night I had the great pleasure of attending their concert at the Rod Laver Arena in Melbourne.
Starting with one of their classics, Mick Jagger, Keith Richards, Charlie Watts and Ronnie Wood began their 2-hour plus extravaganza, with 'Satisfaction'. They then ripped into 'Let's Spend The Night Together' and 'She's So Cold'. Mick Jagger jokingly referred to the people from the western suburbs and "north of the Yarra" when he introduced 'Oh No Not You Again', a new song from the Stones' new album, 'A Bigger Bang'.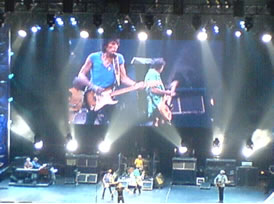 'The Rolling Stones – Satisfying their Melbourne audience by playing many of their hits.'
It was great to hear 'Ain't To Proud To Beg' and the tribute to Ray Charles in which the band played 'Night Time Is The Right Time' was awesome. For lovers of the blues, this was heaven. During the song, Keith Richards sat in front of the drum kit and appeared to be in a world of his own. Lisa Fischer who sang co-lead vocals…oh my Lord! What a voice!
Mick Jagger introduced the members of the band and he introduced Keith Richards last. He got a huge response from the audience. Keith Richards commented that it was "good to be here…in fact it's good to be anywhere". He then sang 2 songs. The first was a new track called 'This Place Is Empty', an acoustic ballad and then he rocked out with 'Happy'.
One of the highlights of the show was when the band including the bass and keyboard player moved down to the end of the opposite end of the arena. On a small stage the Stones played some of their classic songs including 'Miss You', 'Get Off Of My Cloud' and 'Honky Tonk Woman'. From the opening chords of 'Miss You', the entire audience was on their feet.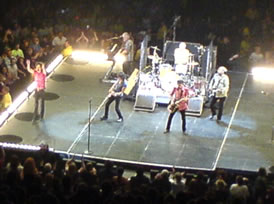 L-R Mick Jagger, Ronnie Wood, Charlie Watts (on drums) and Keith Richards performing on the smaller stage at Rod Laver Arena, Melbourne.
Returning back to the main stage, a long funky drum beat (one can assume it was Charlie Watts playing but it was dark during the drumming…hmmmm) was used as the introduction for 'Sympathy For The Devil'. What a buzz to hear 15,000 people sing "Oooh Oooh" throughout the song. The visual effects during this song were great. As soon as it finished, Keith Richards played the opening riff of 'Paint It Black' and again the audience was delighted. Ironically, the band finished their main set with 'Start Me Up'. Mick Jagger thanked the audience and said goodnight but as per usual the audience wanted more.
The band returned to the stage with a guitar riff that has inspired many guitarists and played 'Jumpin Jack Flash'. Next came one of best songs ever written by Mick Jagger and Keith Richards, 'You Can't Always Get What You Want. It was great to hear the audience sing along to this classic song.
The Rolling Stones ended the show with 'Brown Sugar'. As with all of the other songs, the band played with a lot of energy. Mick Jagger may have been a little too enthusiastic because he was singing a few bars ahead of the rest of the band. The video screen showed Mick and Keith looking at each other trying to work out who was wrong. Every musician in the audience would have picked this up but who cares. These guys put on a brilliant show.
The lighting and video effects during the show were state of the art. The images on the large screen captured that these guys were really into what they were doing on stage. Charlie Watts is a tight drummer who can still hold a beat and his stamina is inspiring. Ronnie Wood and Keith Richards' guitar playing is still good. They work so well together. This is what Keith Richards refers to as "weaving". While Ronnie Wood is a bit more reserved on stage, Keith Richards looks really happy and he just lets the music lift him. Mick Jagger is one of the best showmen I've ever seen (and I've seen a lot!). His voice sounds great, he's an enthusiastic performer, he can still move better than most half his age (he's 62) and he knows how to work an audience. Basically, he is a fantastic entertainer.
Overall, the show was brilliant. I saw The Rolling Stones at the MCG during their Voodoo Lounge tour in 1995 and that was a great show. However, last night's "intimate" show for 15,000 people at Rod Laver Arena was absolutely awesome and inspiring. These guys have 40 years of experience and a huge repertoire of songs to choose from. I was satisfied because they played many of my favourite Rolling Stones songs. I would have really loved to hear my personal favourite, 'She's A Rainbow' from their 1967 album 'Their Satanic Majesties Requests', but that would have been asking a bit too much.
Here's a piece of advice (many of my students have already heard me say this so many times), never judge a musician by their age. The Rolling Stones members might be older than 60 years but they are still great musicians, songwriters and entertainers. I consider myself very lucky and blessed to have seen last night's concert. If a DVD of this tour gets released, go and get it. The new musicians of today still have a lot to learn from The Rolling Stones.
By STEVE YANKO
Copyright © STEVE YANKO 2006
Set List -Â April 13th, 2006 – Rod Laver Arena, Melbourne.
Satisfaction
Let's Spend The Night Together
She's So Cold
Oh No Not You Again
Sway
Worried About You
Ain't To Proud To Beg
Tumblin' Dice
Night Time Is The Right Time
This Place Is Empty
Happy
Miss You
Rough Justice
Get Off My Cloud
Honky Tonk Woman
Sympathy For The Devil
Paint It Black
Start Me Up
Jumpin Jack Flash
Can't Always Get What You Want
Brown Sugar
Visit the official Rolling Stones website: www.rollingstones.com
About the Author
Steve Yanko
Steve Yanko is a Music Teacher, Musician, Song Writer & Consultant who loves working in the world of music.