After 50 years of performing live, Sir Elton John has decided to retire from live touring to spend quality time with his family. From a career starting in the late 1960s, a plethora of brilliant songs and amazing performances all over the world who can begrudge this music icon and philanthropist?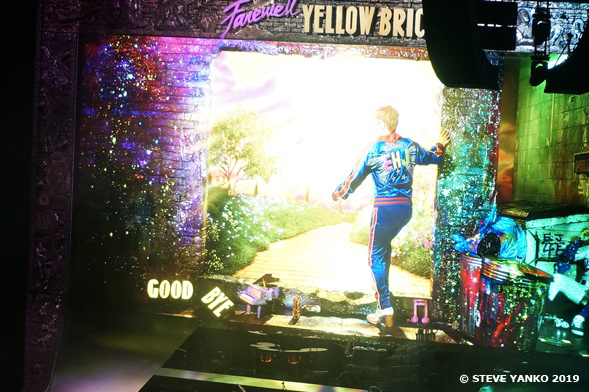 I'm lucky to have seen Elton John in concert a few times (2006 concert review & 2012 concert review) but I felt emotional during the show as this concert is part of the Farewell Tour. Through his music, Elton John has brought happiness and inspiration to millions of people all over the world. When I first started playing piano, I used to listen to Elton John songs and try to learn his technique by ear. Even at a young age I could hear the virtuosity and diversity in his playing. I could hear the classical, pop, rock 'n' roll and blues influences in his music and that's what I loved. All these years later, Elton John's musicianship was in full flight at his concert last night and left his audience spellbound with his fantastic showmanship.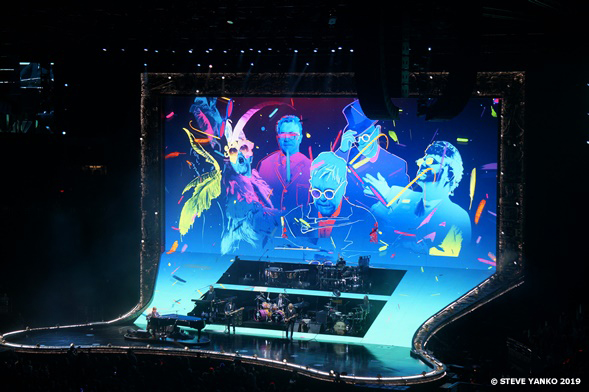 As Elton John will be performing Australia for the next 4 months, I don't want to spoil the show for those people who are going to see the show by providing too many details. However, I have to say that the sound quality at this show was the best I've ever heard at any concert I've been to (and I've been to over 50 concerts). Kudos has to go to all those responsible for the sound production. Every instrument was clear in the mix and vocals (including the backing vocals) sounded superb.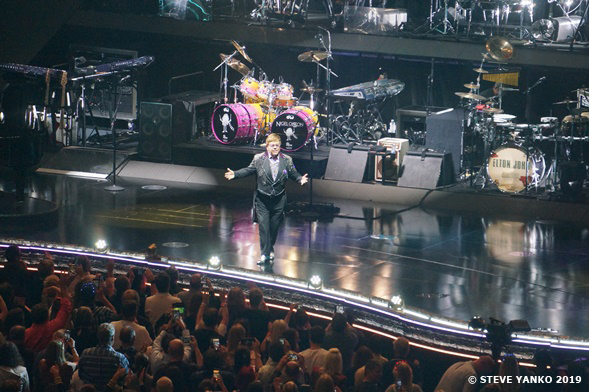 Elton John's voice still sounds strong and his piano playing was exceptional. I loved seeing his hands move across the keys so effortlessly. Its fair to say the audience got a great piano lesson.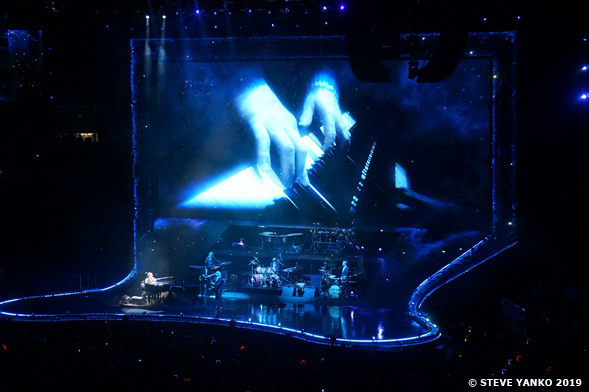 Elton John's band, as expected, were super tight and it was good to see his original band members Davey Johnstone (guitar), Nigel Olsson (drums) and Ray Cooper (percussion) still perform with great enthusiasm the music of their band leader.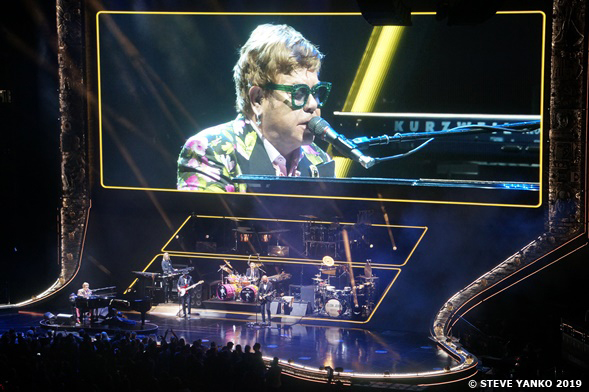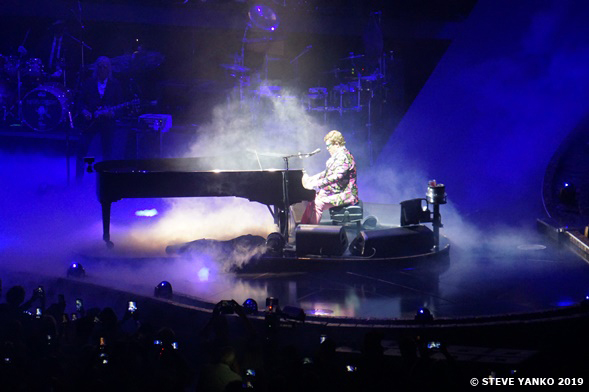 With a career spanning over 50 years and so many wonderful songs, what songs do you play for a farewell tour? I think Elton John must have had a tough time in choosing the songs but he played so many of his hit songs that are regularly played on radio. Thus, the audience sang, clapped, cheered and really appreciated Elton John's performance in a concert that comprised of an exceptional set list.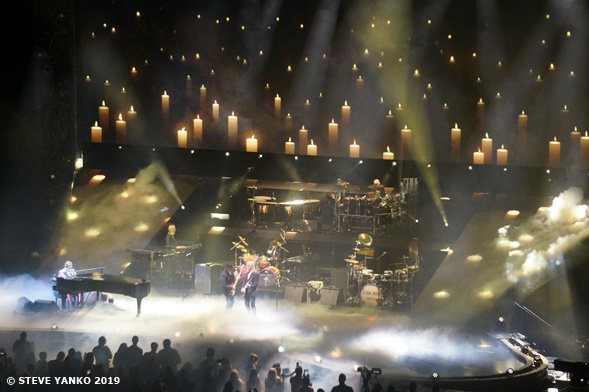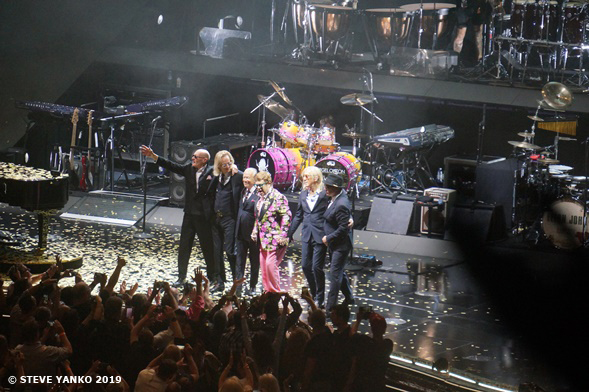 Personally, I loved hearing Elton John's piano solos but I was truly inspired to see a 72 year old musician play with the professionalism, vitality and enthusiasm just like they were starting their career.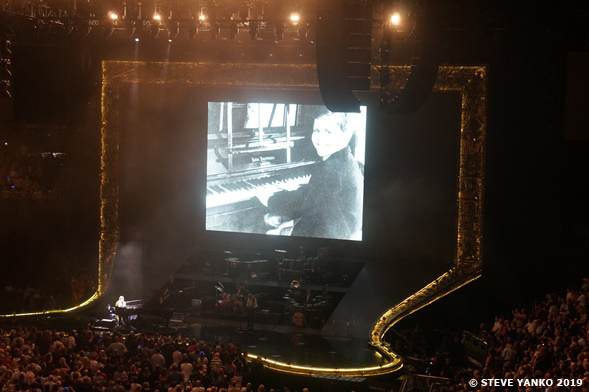 Elton John's music has always been part of my life. Elton John has been a wonderful music teacher to me not only as a piano player but as a song-writer too. Last night Elton John gave his audience everything they could have wanted and showed why he is regarded as one the most important and influential musicians and composers in history.
I truly feel happy, blessed and grateful that I got to see Elton John in concert on his farewell tour and based on the positive vibe of the people at the show after the concert, I wasn't the only one to feel this way. Thank you Sir Elton John for your wonderful music.
By STEVE YANKO
© STEVE YANKO 2019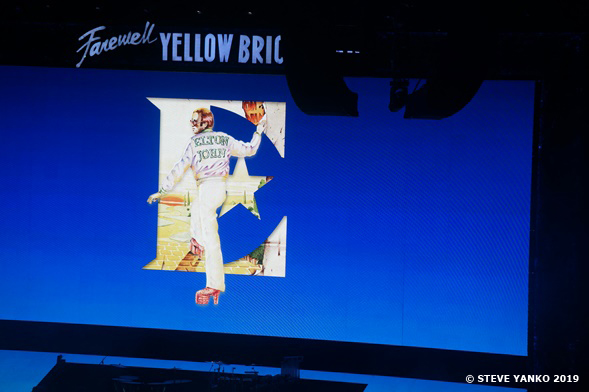 Official Elton John website
SET LIST
Bennie and the Jets
All the Girls Love Alice
I Guess That's Why They Call It the Blues
Border Song
Tiny Dancer
Philadelphia Freedom
Indian Sunset
Rocket Man (I Think It's Going to Be a Long, Long Time)
Take Me to the Pilot
Sorry Seems to Be the Hardest Word
Someone Saved My Life Tonight
Levon
Candle in the Wind
Funeral for a Friend/Love Lies Bleeding
Burn Down the Mission
Daniel
I Want Love
Sad Songs (Say So Much)
Don't Let the Sun Go Down on Me
The Bitch Is Back
I'm Still Standing
Crocodile Rock
Saturday Night's Alright for Fighting
Encore:
Your Song
Goodbye Yellow Brick
About the Author
Steve Yanko
Steve Yanko is a Music Teacher, Musician, Song Writer & Consultant who loves working in the world of music.