Recently, I had the pleasure of seeing the theatre production of The Lion King . The musical is an adaptation of the 1994 Disney animated film, The Lion King, which tells the story of the lion cub Simba and his journey to become the Lion King.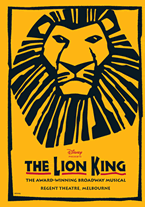 The Lion King
The theatre production still has the movie's songs written by Elton John and Tim Rice. However, the theatre production includes new songs and music written by Lebo M, Mark Mancina, Jay Rifkin, Hans Zimmer and the production's award winning director Julie Taymor.
The songs from The Lion King are wonderful, but unlike many other musicals, the songs are not what make this production special. Instead, what makes The Lion King different from other productions are the performers on stage and their use of puppetry to represent the characters.
The set design in this production is brilliant and what Julie Taymor has done successfully is to fully capture the audience's attention from the minute the house lights go down. The scenery changes are seamless and are visually amazing. If you have seen the animated movie you will be pleasantly surprised to see how they have interpreted some scenes from animation to live theatre.
While this production is an international ensemble cast without a main star, I have to state that Tony Harvey as Scar was excellent. Furthermore, Jamie McGregor as Timon and John Xintavelonis as Pumbaa were absolutely fantastic. They convincingly brought to life these 2 popular characters from the movie and of course their rendition of "Hakuana Matata" was one of the many highlights in the show.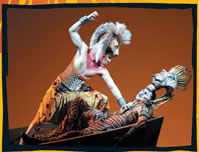 The Lion King, Simba and the evil Scar.
Overall, this show is wonderful and it deserves all of the awards it has received. It has great music, an excellent cast and it is an amazing visual production. If you get a chance go and see The Lion King…you won't regret it.
 
By STEVE YANKO
Copyright © 2005 Steve Yanko
About the Author
Steve Yanko
Steve Yanko is a Music Teacher, Musician, Song Writer & Consultant who loves working in the world of music.