Question. What do you get when you hear a B note on a bass guitar and then hear another two B notes an octave higher?
Answer. The start to the funkiest and possibly one of the best albums released in 2004.

Prince has done it again, his latest album Musicology is another masterpiece full of pop, funk, blues and soul music.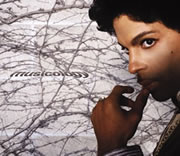 Prince's new album Musicology
The opening track Musicology is a great song driven by a simple bass groove and a funk beat that compels you to get up dance. In this song, Prince makes lyrical references to his influences such as James Brown and Sly Stone. This song is an excellent opener to the album.
Who else but Prince could write a catchy funk song called Illusion, Coma, Pimp & Circumstance? A Million Days shows Prince can write a great tune in any genre. This is a simple rock song with intricate arrangements very similar to the rock songs from the Gold album.
Life O The Party is an awesome funk song and it is a great example of what you can do with just drums, bass, a catchy horn riff and an awesome melody. The middle section of the song featuring Prince rapping is fantastic! Prince played this song at his concerts in Australia, 2003.
Call My Name is indicative of Prince's songwriting brilliance. A ballad with a beautiful arrangement and a catchy chorus. Absolutely perfect pop/soul music!
Prince has always written what some people may call 'political' songs. Cinnamon Girl (rock) and Dear Mr. Man (pop/soul/funk) outline his views on the "war on terror" and the struggles facing people today. The lyrics are straightforward and you do not need to be a genius to get the messages in these songs!
Songs such as What Do U Want Me 2 Do?, The Marrying Kind and If Eye Was The Man UR Life are all catchy pop tunes that exemplify why many musicians around the world admire Prince. In the songs Prince provides his listeners with great melodies, awesome arrangements and intelligent lyrics.
Prince is a huge fan of blues and gospel music and On The Couch is another great addition to his catalogue of blues songs. Prince previewed this song at his 2nd concert in Melbourne, October 2003. He played it solo on the piano and it got a huge response.
The album ends with the soulful ballad Reflection in which Prince makes references to his younger days, his mother and his life today. Again, the arrangements are simple but beautiful and blend in very well with the acoustic guitar rhythm.
All in all this is a brilliant album. It's consistently good and every time you listen it you will find something new. Prince sang all of the vocals and played all of the instruments on many of the songs on this album. The songs are fantastic and classic Prince. As a producer Prince is brilliant.
To long time fans of Prince this is another great album to add to your collection. To those of you new to Prince's music, Musicology is a wonderful album to start off with. However, your journey has just begun and you won't be disappointed when you discover the rest of this Rock N Roll Hall of Fame Inductee's music.
By Steve Yanko
Copyright © 2004 STEVE YANKO
About the Author
Steve Yanko
Steve Yanko is a Music Teacher, Musician, Song Writer & Consultant who loves working in the world of music.