In these days of manufactured pop music from TV shows like UK, American and Australian Idol (for the record we love Guy Sebastian), it is so refreshing to hear new music from great songwriters, musicians and producers. The new album by N*E*R*D, produced by The Neptunes is absolutely fantastic.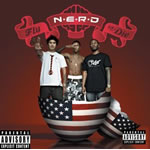 N*E*R*D's new album
N.E.R.D stands for No One Ever Really Dies. The band comprises of Pharrell Williams, Chad Hugo and Shae Haley. N.E.R.D is the offspring of the Neptunes, which comprises of Williams and Hugo who have produced music for artists such as Jay-Z, Busta Rhymes, Usher, Britney Spears, Justin Timberlake and No Doubt.
The 1st song of the album 'Don't Worry About It' instantly grabs your attention with its rock/funk groove. The vocal and guitar arrangement is awesome and remind me of the sound Jimi Hendrix created. 'Backstreet Love' is another great track with a Hendrixesque guitar riff that drives the song. The 1st single of the album 'She Wants To Move' is a melting pot of styles and sounds. The song begins with a drum rumble and bass. The rhythm is provided by an acoustic guitar that is followed by a piano, syncopated handclaps and an electric guitar riff. All of this leads to a chorus full of sound and vibrancy.
Songs like 'Breakout' go all over the place melodically but again the arrangement is brilliant. In the verses, the guitar sounds like it came straight out of any Curtis Mayfield song. This is not surprising because you can hear many of the band's influences. For instance, 'Wonderful Place' is a soulful song that sounds like it came out of the late 60's and early 70's. It's a laid back track until the chorus kicks in with it's horn blasts and aggressive drum rolls. This is a great track and reminiscent of the music created by Chicago and Blood, Sweat & Tears.
There are 3 hidden tracks on this album and the 1st of these 'Waiting For You' is excellent. A beautiful string arrangement accompanies the vocals in the 1st verse. In the 2nd verse the string arrangement is more complex and includes pizzicato strings that work very well with the congas and acoustic guitar.
I really enjoyed 'Thrasher' and again this is because of the clever and intricate arrangements. The same applies to 'Maybe' which features Lenny Kravitz on guitar. While the vocal style sounds very much like Sly Stone, listen out for the marching band drumbeat…something you don't hear everyday in pop music.
The 2nd hidden track 'Perseverance' is also great and by the lyrics it appears that the guys from N*E*R*D feel uncomfortable with their status. They sing "Hate when they call me superstar, Do I look like a superstar?" All I can say is that they may not look like superstars but the music they have created on this album suggests that they are.
Overall, this album is a fantastic piece of work. Every time you listen to it you will hear something new. If you like the music of Prince, Lenny Kravitz, The Beatles (late 60's) and Jimi Hendrix then you will love this album. The music on this album is so good that you tend not to listen to the lyrics. But that's Ok… you just have to enjoy yourself and play this album over and over again.
By Steve Yanko
Copyright © 2004 STEVE YANKO
About the Author
Steve Yanko
Steve Yanko is a Music Teacher, Musician, Song Writer & Consultant who loves working in the world of music.