He's done it again. Neil Diamond has brought another tour to Australia and again he has left thousands of people, of different ages and walks of life, feeling very happy after his shows.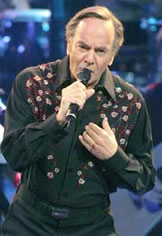 Neil Diamond performs another hit song in concert.
I have been fortunate to see Neil Diamond in concert during his tours of Australia in 1992 and 1999. With that in mind, I can say that not only is he a brilliant songwriter but also a wonderful entertainer. Last night at the Rod Laver Arena in Melbourne, Neil Diamond showed why he has had a successful career over the last 40 years.
The pace of the show was perfect and it was good to see a performer actually talk to their audience as if they were close friends. Neil Diamond has a good sense of humor and he used it naturally in his show. As a pleasant surprise, he performed some his very early songs which were performed simply by Neil Diamond sitting down and playing his signature acoustic guitar.
He did not disappoint his fans and backed by his tight band, performed many of his hits. Some of the songs he performed included 'Crunchy Granola Suite', 'America', 'Forever in Blue Jeans', 'Beautiful Noise', 'September Morn', 'Cherry Cherry', 'Shilo', 'Cracklin' Rosie', 'I'm A Believer' and the list of great songs goes on. My personal highlight was seeing the audience sing along to the classic 'Sweet Caroline' and I loved the arrangement of the brilliant song, 'I Am, I Said'.
Overall, Neil Diamond is a great example of how combining great songs and great entertainment skills ensures a long and successful career in the music industry. Last night, Neil Diamond made a lot of people happy through his music. What more can you ask for?
By STEVE YANKO
Copyright © 2005 STEVE YANKO
About the Author
Steve Yanko
Steve Yanko is a Music Teacher, Musician, Song Writer & Consultant who loves working in the world of music.