No video screens, no pyrotechnics and no state of the art lighting… only tight funky soul music.
From the moment the lights dimmed the crowd at the Rod Laver Arena got on their feet to welcome the "Godfather of Soul", "The Hardest Working Man in Show Business" and "Mr. Dynamite", James Brown.
Instead his band the Soul Generals walked on to stage and started to groove. Interestingly the band comprised of 2 bass players, 2 drummers, 2 guitarists, a percussionist and an awesome 3-piece horn section.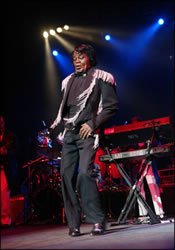 James Brown – still doing it at 70!
First came the Bittersweets, the Godfather's female backing vocalists. Then came the MC whose job it was to remind as to who was going to get on stage next… as if we didn't know! The MC would call out a hit and the band would play the hook of the song. Then as per usual at any James Brown gig, the MC and band asked us to chant "James Brown, James Brown"… and we did until the man himself walked up on stage to thunderous applause.
He started out the set by singing about… funk. Early into the set he performed 'Get up off That Thing'. He showed us that he could still do his trademark dance moves. Very impressive for a man that's 70 years old! He would call out to his musicians to do a solo and they obliged. This basically was the formula for the night. There were many extended jams that included James Brown on keyboards and the arrangements were fantastic.
This concert was more like a old fashioned soul revue where everyone gets a chance to highlight their talent. One of the Bittersweets sang Aretha Franklin's 'Respect' and at one point in the evening James Brown's wife Tomi Rae came on stage and performed a Janis Joplin song… or so said James Brown. There was a really cool vibe to this song but then she sang Etta James' 'At Last' and for the first time during the night people sat down. This ballad segued into James Brown singing Sam Cooke's 'You Send Me' and only when the man squealed and got to his knees singing did we all stand up again and applaud.
On his feet again and the concert came alive again with the classic 'I Feel Good'. People from all walks of like were dancing at the arena and it was great to see. Soon after this song the night ended with an extended version of 'Sex Machine'. And when I say ended I mean ended. There was no encore.
When you consider the number of top 10 hits James Brown has had you can't help but to expect more of his songs in the show.
The following is a shortlist of songs that he DIDN't play.
Papa's Got a Brand New Bag
Licking Stick
Cold Sweat
Super Bad
Hot Pants
I Got The Feeling
It's a Man's World
Overall, this concert was a positive and wonderful experience. The choreography was great as well the entire band's costumes. As a musician, I really enjoyed and appreciated the level of musicianship and I thoroughly enjoyed how James Brown the pioneer and legend that he is entertained the crowd.
PS. I hope that when I'm 70 years old that I can still play and give an energetic performance like James Brown did last night.
By STEVE YANKO
Copyright © 2004 STEVE  YANKO
 
About the Author
Steve Yanko
Steve Yanko is a Music Teacher, Musician, Song Writer & Consultant who loves working in the world of music.