Many people would not know who Walter Yetnikoff is but as President of CBS Records from the mid 1970s to the early 1990s, he was one of the most powerful people in the music industry. His autobiography, 'Howling At The Moon' is a candid account of his life and worth reading.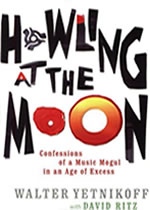 Walter Yetnikoff's book, 'Howling At The Moon'.
In his book, Yetnikoff writes about how he made it to the top of the music industry. He outlines his transformation from a corporate lawyer with humble beginnings to a powerhouse music industry mogul with great success who lived life with an abundance of infidelity, drugs and alcohol.
Yetnikoff openly talks about the mistakes he has made in his life but he also takes the credit for CBS' great success during his tenure as President. Yetnikoff was also instrumental in selling CBS Records to the Sony Corporation in 1988. His insights on working with and shaping the careers of artists such as Billy Joel, Bruce Springsteen, The Rolling Stones, Barbara Streisand, and Michael Jackson is fascinating. The dialogue between himself and Michael Jackson is very funny. What is more interesting is his candid discussions about his working relationships (some good, some bad) and opinions of other high profile and hugely successful music industry executives such as Clive Davis, David Geffen and Tommy Mottola.
Yetnikoff honestly reflects on his drug and alcohol addiction during the peak of his career. He himself admits that he doesn't know how he ran the company so well while being "high". Interestingly, but not surprising, Yetnikoff also discusses his journey to sobriety, how his time ended at CBS/Sony and how these days he is involved with an addiction treatment facility and music.
You don't have to be interested in music or the music industry to enjoy this book. Yetnikoff is open and doesn't hold back his feelings about what he likes or doesn't like. Due to his toughness and bravado he may have made a lot of enemies (and money) in his time. However, this book may actually help many people by warning them of the dangers of an excessive lifestyle in the entertainment industry. For aspiring musicians, this book may be an introduction to the types of characters and deals you may come across on your quest for superstardom.
Overall, this is a fantastic book that I couldn't put down. I loved it!
You may also be interested in reading this interview with Walter Yetnikoff
By STEVE YANKO
Copyright © STEVE YANKO 2005
About the Author
Steve Yanko
Steve Yanko is a Music Teacher, Musician, Song Writer & Consultant who loves working in the world of music.