Donald Trump's new book "How To Get Rich" is a great read but it doesn't really tell you how to get rich. Instead it's a book in which Donald Trump offers practical, and many would argue good advice.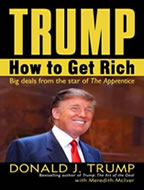 Donald Trump's book, 'How To Get Rich'.
Donald Trump is a billionaire and the star of the hit TV show "The Apprentice". In this book he offers advice on a variety of subjects including leadership, hiring staff, job interviews, salary negotiation and deal making. He also offers advice that you wouldn't normally find in any other book. For instance, Trump advises his readers to play golf because he believes it improves people's business skills and because it gives "…you an equilibrium that you can't always find in the office…".
In other chapters he advises people to read the books of psychologist Carl Jung, while in others he advises that people should have an ego so that they have a "…sense of purpose…". In other chapters he explains that he doesn't shake people's hands because "…this is how germs are spread…".
One of the chapters in the book covers a week in the life of Donald Trump. This is a fascinating read and only reinforces the notion that regardless of your social status, most people are really busy when they are at work!
Another great chapter of the book is dedicated to the TV show "The Apprentice". This chapter outlines how the show was conceived and produced. It also provides an overview of the audition process and Trump's opinion of each contestant in the show.
On a personal level, I really enjoyed Donald Trump's advice on positive thinking and teaching children the value of money.
Overall this book is excellent. The writing style is succinct and very indicative of the way Trump talks (you know what I mean if you watched the show!). You won't get rich by reading this book but you can incorporate Donald Trump's practical advice to suit your goals and ambitions…. and if that means that you want to be rich…. go for it!
By STEVE YANKO
Copyright © STEVE YANKO 2004
About the Author
Steve Yanko
Steve Yanko is a Music Teacher, Musician, Song Writer & Consultant who loves working in the world of music.