It's been 5 years but George Michael has finally released his new album 'Patience'.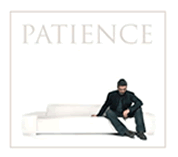 Patience. The new album by George Michael
With his previous solo albums of original material (Faith, Listen Without Prejudice and Older) the 1st song on the album was the 1st single released to radio. Not this time! Instead the new album opens with 'Patience', a song with an interesting melody accompanied only by piano. On the 1st listen, the song really doesn't grab you but it does grow on you after several listens.
The next track 'Amazing' is a standout song along with 'Shoot The Dog' and 'Freeek'. These songs exemplify how George Michael can easily write and produce songs with commercial appeal. Play these songs at a party and you will get people dancing. The production on 'Freeek' is excellent. Any song that can incorporate the sound of a 56k modem dialing up to the Internet as part of the accompaniment has to grab your attention!
One thing that can be said about this album is that the lyrics are quite thoughtful and honest. On songs such as 'Round Here' he sings about his parents, his friends and there is a reference to an "Andy" who I suspect is Andrew Ridgley his band mate from Wham. The arrangements and the melody on this song are beautiful. 'My Mother Had A Brother' is a moving song about George Michael's uncle who committed suicide on the day George Michael was born. The song begins with just vocals and piano and gradually builds into a soulful song that highlights George Michael's diversity as a singer and a songwriter. He sings to us and then he sings to his deceased mother, asking her to pass on a message to his uncle. This song is really captivating and really grabs you on the first listen. 'American Angel' is an ode to George Michael's Texan partner Kenny. This song has a catchy chorus and has a very similar sound to 'Spinning The Wheel' from George Michael's album 'Older'.
The music on this album is intimate and George Michael sounds like his whispering in your ear when singing songs such as 'Please Send Me Someone', 'John and Elvis Are Dead', and 'Cars and Trains'. The latter song begins with a female voice talking on an answering machine (very similar to Wham's 'Battlestations') and then moves into an up-tempo groove with a beat that sounds very much like another George Michael song, 'Fastlove'. Other dance songs on the album such as 'Flawless' (this song would be perfect for a fashion parade) and 'Precious Box' do not have memorable melodies in the verses but as we say in the music business they have "killer" choruses. DJ's around the world will absolutely love 'Precious Box'. The production on 'Precious Box' is fantastic. It has a great beat and the vocal harmonies work extremely well with the music.
The song 'Through' is superb. The melody is not conventional and yet George Michael's vocals grab you and demand that you listen. In addition to this, the orchestrations are lush and how certain instruments are introduced only for certain parts of the song are refreshing.
George Michael likes to end his albums by reintroducing a song from the album. This time he ends the album with an instrumental version of 'Patience'.
Overall, this album is excellent. It may take a while to grow on you but it will. If you love the sounds of keyboards and acoustic guitars then you will love this album. If you love dance music then you will love this album. If you love ballads with thoughtful lyrics then you will love this album. If you love the sound of George Michael's voice then you will love this album.
Enjoy…I did!
By STEVE YANKO
Copyright © 2004 Steve Yanko
About the Author
Steve Yanko
Steve Yanko is a Music Teacher, Musician, Song Writer & Consultant who loves working in the world of music.