For those of you who know me, you know I absolutely love music. Lately, there has been one artist that I cannot get enough of and every time I hear her music on the radio I just HAVE to listen. The artist is Gwen Stefani.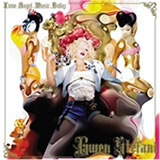 Gwen Stafani's album, Love, Angel, Music, Baby
So far, radio has been playing 'What You Waiting For', 'Rich Girl' (very clever using a song from the musical "Fiddler On The Roof') and 'Hollaback Girl'. All three songs are great and the production and arrangements are fresh.
I went into a music shop and had a listen to the album and it is brilliant. There is a song called 'Cool' and I think it will be an excellent next single.
So here is my prediction. I have been telling my friends and students and so I better put it in writing.
Gwen Stefani will win a Grammy for Album of the Year for her album 'Love, Angel, Music, Baby' in 2006′.
By STEVE YANKO
Copyright ©  STEVE YANKO 2005
About the Author
Steve Yanko
Steve Yanko is a Music Teacher, Musician, Song Writer & Consultant who loves working in the world of music.